If you've ever struggled to sleep well but don't want to go with sleeping pills, you might be wondering how to sleep better at night naturally.
The good news is that there are some natural home remedies for sleep that can be very effective and easy to use.
Which one will work best for you largely depends on why you're sleeping poorly.
I'd encourage you to give more than one of them a try and use them consistently for at least a week before deciding whether they work or not.
Here are my top four natural sleep remedies, plus some sleeping habits to consider changing.
(The information in this post is for educational purposes only and is not meant to replace medical advice. Please consult your doctor as necessary, especially for chronic insomnia.)
Pin For Later:
This post contains affiliate links, which means I may make a commission if you purchase through one of the links. There is no extra cost to you & I only promote what I love! Read the full privacy policy here.
Sleep Remedy #1- Magnesium Lotion
Magnesium is a very important mineral for lots of different functions in the body and could be an important piece of the sleep puzzle.
Research indicates that magnesium helps to regulate the production of melatonin, the sleep hormone. (1)
Magnesium deficiency has been been linked to insomnia and other sleep problems and supplementing with it can improve quality and quantity of sleep. (2)
The downside is that magnesium supplements can cause digestive upset, including diarrhea.
Many people have found that adding magnesium through a lotion that is absorbed through the skin is just as effective as supplementing and does not upset digestion.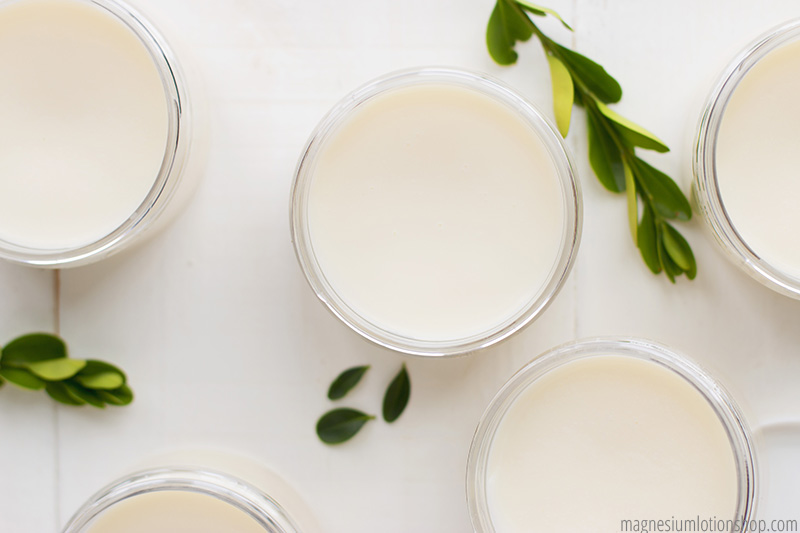 This is such a simple remedy:
Just apply a small amount of lotion to your legs or back before going to sleep each night. That's it!
If you'd like to give magnesium a try, I highly recommend buying from the Magnesium Lotion Shop.
Their magnesium lotion is hand-crafted and only contains 4 completely natural ingredients.
It's also a small husband and wife business that was born out of a need to find a solution for Restless Leg Syndrome and sleepless nights.
*Things to consider: This natural sleep remedy can be very effective if you are deficient in magnesium. If your magnesium levels are fine, using the lotion won't do any harm, but it likely won't help your sleep.
Sleep Remedy #2- Herbs + Herbal Tea
If you're trying to figure out how to sleep better at night naturally, herbs are one of the oldest remedies to help with that.
Using herbs and herbal teas for sleep could be a post all on its own.
Wait, actually it is:
But if you don't want to read a whole other post, two of the most often used herbs for sleep are lavender and chamomile.
Both are calming to the nervous system and can be especially helpful if you have trouble falling asleep due to stress.
You can make a simple tea with either one by adding 2-3 teaspoons of the dried herb to 1 cup of boiling water and letting it steep 10-15 minutes.
Drink 1-2 hours before going to bed.
Or try an herbal tea blend specifically for sleep:
This organic herbal blend combines several other powerhouse sleep herbs: valerian, passionflower, lemon balm, and peppermint.
*Things to consider: Like other natural sleep remedies, the best herb(s) to help you sleep will depend on why you aren't sleeping well. Herbal tea is especially helpful for sleeplessness due to stress, tension, and anxiety.
Sleep Remedy #3- Essential Oils and Aromatherapy
Essential oils are basically the more concentrated essence of herbs and other plants.
Specific oils can be very helpful for getting a good night's sleep, just like herbs and herbal teas.
Lavender is probably the most famous essential oil when it comes to sleep, but there are others that are just as helpful. (Plus, Lavender doesn't work for everyone.)
Cedarwood and Sandalwood both stimulate the pineal gland, which releases melatonin. Either one can help with sleep.
Orange and Bergamot essential oils have a calming effect that can help you fall asleep.
Frankincense is also calming and can help both mind and body to relax. Clary Sage helps to clear the mind before sleep and can promote better rest and better dreams.
Using essential oils:
One of the easiest ways to try essential oils for sleep is simply by running a diffuser in your bedroom for 30-60 minutes before sleeping.
For even more aromatherapy, you can inhale any of the oils I just mentioned directly from the bottle. (Hold the bottle a few inches from your nose and take several deep breaths in.) Or try Lavender or any of the other oils in a pillow spray.
You can also dilute essential oils and apply them topically as part of your nighttime routine. Try putting sleep oils on the back of your neck, on your chest, or on the bottoms of your feet.
A bath with Epsom salts and essential oils is a great way to get both the effects of the oils and magnesium. (The magnesium comes from the Epsom salts.) Use about 4-8 drops of essential oils for every cup of bath salts and mix together before adding to the water.
*Things to consider: Like herbs, different essential oils will work better for different people. Try several different oils and try applying them as well as diffusing until you find what works best. Oils and herbs work best over time. We have gotten used to instant relief, but natural methods may take longer.
Sleep Remedy #4- Melatonin
Melatonin is probably one of the most familiar natural remedies for sleep.
It's a hormone that your body is supposed to produce naturally and helps regulate your sleep cycle. More specifically, melatonin levels should rise in the evening, telling your body it's time to sleep. (3)
Supplementing with melatonin has helped many people with insomnia and can improve both how fast you fall asleep and how well you sleep. (4)
The other benefits of using melatonin are that it's not habit forming like sleeping pills and it supports your natural sleep rhythm.
To be clear, many melatonin supplements are technically from a synthetic source.
Typically, I prefer everything to be natural, but the only natural form of melatonin supplement comes from the pineal gland of animals. Honestly, I would stick with the synthetic version- just make sure it's high quality.
You can try a simple melatonin supplement like this one. Or you can take a natural sleep aid like this one that contains melatonin and herbs like chamomile and valerian.
*Things to consider: Melatonin can be very effective, but like the other remedies it's only going to help you sleep better if low melatonin levels are the problem.
If you find that melatonin helps, it would be worth researching ways to help your body naturally produce more melatonin instead of relying on a supplement. Always talk to your doctor about any concerns.
How To Sleep Better By Changing Habits
I couldn't do a post on how to sleep better at night naturally without talking about lifestyle and sleeping habits.
While remedies can be a great help (and do work), it's always best to look at lifestyle changes first. Here are a few to consider:
Stress Management. Chronic stress is something that affects many people and could be the cause of poor sleep quality. It not only makes it difficult to fall asleep and sleep well, stress also causes more daytime fatigue.
While many of the herbs and oils for sleep will also help with stress, things like yoga, breathing techniques, and exercise can help to cut stress levels on a daily basis.
Be Careful With Caffeine and Alcohol. Drinking caffeine too late in the day can make it difficult to fall asleep. It can stay in your system as long as 6 hours, so it's best to go decaf starting in the late afternoon.
Alcohol will make you feel drowsy but ultimately disrupts your sleep cycle and will cause you to sleep more poorly.
Have a Calming Nighttime Routine. You've probably heard about how the blue light from phones, tablets, etc. can make it more difficult to fall asleep.
Along with stopping screen-time well before bedtime, try making a routine that's as relaxing as possible. You could take a warm bath or shower, treat yourself to aromatherapy, or drink some herbal tea.
Sleep Better With Natural Remedies
If you've already tried changing your sleep environment, cutting back on caffeine, and all the rest, give the natural sleep remedies I just talked about a try!
Magnesium lotion is one of the easiest remedies to try and can help with Restless Leg Syndrome as well.
Herbal teas and essential oils will both calm your mind and body down, leading to more restful sleep.
Melatonin is one of the most well-known home remedies for sleep and can be very effective.
You don't have anything to lose, so keep experimenting until you find how to sleep better. Life looks very different when you're well-rested.
Did I miss any natural remedies for sleep? Let me know what's helped you in the comments below.
Sweet dreams!